THE SOFTWARE IS PROVIDED "AS IS", WITHOUT WARRANTY OF ANY KIND, EXPRESS OR IMPLIED, INCLUDING BUT NOT LIMITED TO THE WARRANTIES OF MERCHANTABILITY, FITNESS FOR A PARTICULAR PURPOSE, TITLE AND NON-INFRINGEMENT. IN NO EVENT SHALL THE COPYRIGHT HOLDERS OR ANYONE DISTRIBUTING THE SOFTWARE BE LIABLE FOR ANY DAMAGES OR OTHER LIABILITY, WHETHER IN CONTRACT, TORT OR OTHERWISE, ARISING FROM, OUT OF OR IN CONNECTION WITH THE SOFTWARE OR THE USE OR OTHER DEALINGS IN THE SOFTWARE.
Current versions of IGB supported: 8.3 and 8.4. If using version 8.3, check in the plugin description (plugin tab) which version to load (the selection is automatic starting from version 8.4).
Download IGB
The Integrated Genome Browser can be downloaded from http://bioviz.org/igb/
Download the MI Bundle
In order to use the MI Bundle, run IGB, go the the plugin tab, click on the "repositories..." button and add the repository "http://cru.genomics.iit.it/igb/plugins/".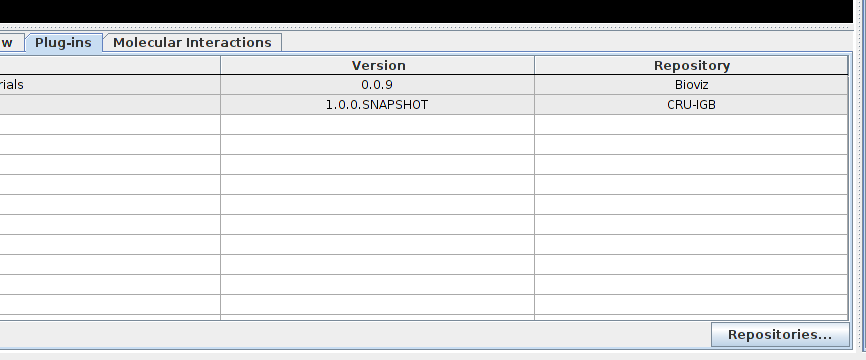 The plugin should now appear in the list, select the check box to install it.
Source code
The source code of the IGB MI Bundle is available under an Apache 2 licence at https://github.com/CRUiit/igb-mi-bundle.